Taurus was approached by Notkin, a military engineering specialist to team with them to help the Puget Sound Naval Shipyard (PSNS) get better control over their mission critical air compressor system in Bremerton, WA.
Notkin had become familiar with Taurus via previous work on three projects which together involved upgrading the process water collection system controls for six drydocks. Taurus then signed an agreement and began work on the compressor project.
Location: Puget Sound Naval Shipyard
Lead Engineer: Aric Naue, PE
Manufacturers and Equipment used:
Allen Bradley CompactLogix controllers
Rockwell FactoryTalk View Site Edition (SE)
Rockwell RS Logix 5000
The project was on time and on budget with no change orders.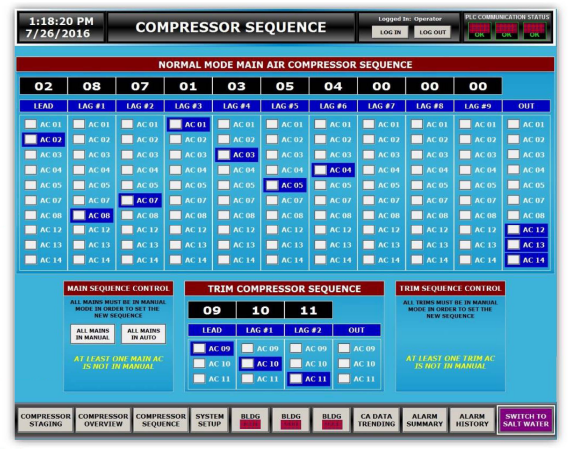 The project summary:
Taurus overcame the challenge of controlling 10 mission critical air compressors by replacing an antiquated proprietary control system with Allen-Bradley Compactlogix Controllers, Allen-Bradley PanelView Plus HMIs, and a redundant Rockwell FactoryTalk View SE SCADA system. Taurus developed, tested, and integrated the new PLC logic and HMI programming all without disrupting the 24/7 operations of the existing utility.
On October 21st Taurus was notified by Notkin that this project had won a gold award and a magnificent trophy in the Society of American Military Engineers (SAME). Taurus is listed as the controls consultant on the award board.​​​​​​​
The project resulted in reduced compressor run times with an estimated annual energy savings cost of $359,525. The new interface now allows for real-time monitoring of compressed air plant capacity output, operating status of individual compressors, and total available capacity.